Adam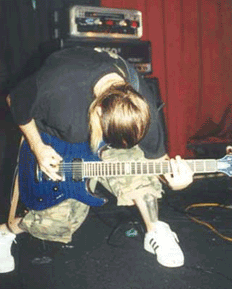 Casey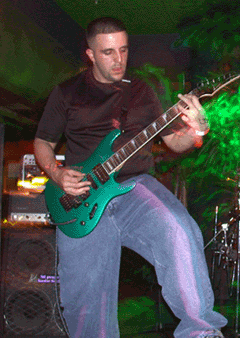 Adam:
1. GNFR
2. Alice In chains/Tool/Nothingface/Chimaira
3. I would have loved to play in Snot.
4. I'd be spanking it.. haha, seriously I have nfc... probably working 2 jobs instead of one.
5. regrets, what are those?
6. My Father
7. ESP LTD h-301, & Shecter C1-Plus Guitars, Peavey 5150II Head, Peavey Ultra 4x12MS Cab, I don't really use any effects besides a wah-wah, my amp channel selector, boss ns-2 noise suppressor, BBE 362, and a Korg DTR-1 tuner to keep my ass in check.


Casey:

1. Favorite childhood band. Old Metalica, Pantera, and Ozzy.

2. Favorite band now. Probably still Pantera and Ozzy

3. If you had a chance to play with any band ever who would it be? I'd be Ozzy's front man

4. What would you be doing right now if you weren't in eye color orange???? I'd probably be working allot more

5. Any regrets at all in your life? yeah, I should have stayed in school.

6. Who is you greatest influence in life? My father
Luis:
1. Metalica
2. Sevendust/Fear Factory
3. Soulfly
4. I would follow through in acting
5. no
6. Bruce Lee
7. My Throat. I also use an ESP LTD H-300 guitar when we write songs.

Hickson:
1. Helmet
2. ECO
3. Guns and Roses
4. Driving the truck that I can't afford now.
5. not too many
6. Dennis Leary
7. I use Tama Drums, Saybian Cymbals, Wuhan China Crash Cymbals, Gibraltar and Tama hardware, and a bunch of other shit...

Steve:
1. Deftones/VOD/Helmet
2. Chimaira
3. Soulfly
4. I'd be doing allot better in school.
5. None, live life to the fullest
6. My Father
7. ESP MD-500, Warwick 5 String, Ibanez Sr405 & sr485, Peavey Firebass 700, (2) Peavey TVX 4x12, SansAmp PSA-1, Korg DTR1, BBE 362sw,